Rando sur les hauts d'la saintélyon
Event date
Start time
09:30 (am)
Event description
Free event
Au Signal de Saint-André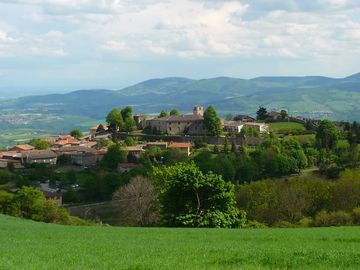 Riverie
Sortie lancée aussi sur OVS-Lyon.

Le temps de ce dimanche de fin mars ne devrait pas être défavorable à la randonnée à condition d'avoir la possibilité de se réfugier dans un abri pour y manger les pique-niques en cas de pluie.
Je propose donc une randonnée pédestre en boucle d'une longueur d'environ 23 km au départ de Saint-André-la-Côte avec un circuit constitué très majoritairement de chemins ou autres voies qui ont été empruntés lors d'une édition ou une autre de la Saintélyon dans sa partie la plus élevée en altitude avec en particulier, vers le début, un passage au Signal de Saint-André (934m), point culminant de la SaintéLyon, et, vers la fin, la fameuse montée du Rampeau qui a marqué les esprits avec ses 750 m de long, ses 180 m de D+ et ses 20 % de moyenne. Autres point d'intérêt notables: le village médiéval de Riverie et la grotte de la Madone, proche de Sainte-Catherine.
On pique-niquera aux tables de pique-nique de l'étang du Perthuis (voir photo du haut), proche de Sainte-Catherine, à moins que le temps ne se prête pas vraiment au pique-nique en plein air, auquel cas on prendra comme abri le lavoir de Riverie et on raccourcira un peu la randonnée en ne passant pas par Sainte-Catherine, laquelle randonnée ne fera plus alors qu'environ 20 km. Ne pas oublier d'apporter son pique-nique et de de l'eau.
Liste d'attente non acceptée au Jour J.
Et attention au changement d'heure!


Multiple registration possible?
Maximum slots available
No
Tell your friends to create an account!
12
Exact address
meeting location
To know the exact rendez-vous point, log in!
To know the exact rendez-vous point, log in!
List of registered members
(12/12 , available: 0)