Randonnée en pays thiernois
Event date
Start time
09:30 (am)
Event description
Free event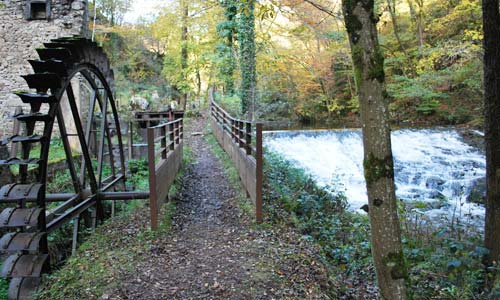 Vallée des Rouets
Thiers ancien
Le temps de ce dimanche de mi-mai ne devrait pas être défavorable à la randonnée à condition d'avoir la possibilité de se réfugier dans un abri pour y manger les pique-niques en cas de pluie.
Je propose donc une randonnée pédestre en boucle d'une longueur d'environ 23 km en Pays thiernois au départ du hameau de Luc, passant par la Vallée des Rouets (anciens moulins et installations industrielles dans les gorges la Durolle), comportant une visite du Thiers ancien et industriel, avec un retour par les ruines du château de Monguerlhe (voir photo du haut). Si le temps s'y prête, on pique-niquera à côté de la chapelle Saint-Roch dominant Thiers. Dans le cas contraire, on ira dans un café à Thiers pour y manger les pique-niques. L'option retenue (café ou pas café) sera annoncée dès qu'il sera possible de choisir d'après les prévisions météo.
Avec sa longueur et un dénivelé positif non négligeable, et même si l'allure sera loin d'être marathonienne, cette randonnée s'adresse à des randonneurs entraînés. Ne pas oublier d'apporter son pique-nique et de l'eau.
Liste d'attente non acceptée au Jour J.
Multiple registration possible?
Maximum slots available
No
Tell your friends to create an account!
12
Exact address
meeting location
To know the exact rendez-vous point, log in!
To know the exact rendez-vous point, log in!
List of registered members
(5/12 , available: 7)